Nag is a simple program designed to do two things well:

1. If you receive a phone call or a text and don't respond Nag will remind you with the sound of your choice and/or vibrate at an interval specified by you.
2. It allows you to quickly and easily silence your phone for anywhere from 5 minutes to 10 hours. At the end of that time, if you have received any calls or texts it will let you know as above.


The Nag Setup Screen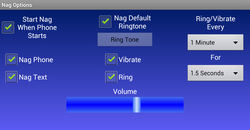 Click for Larger Image
The program defaults to 1 minute intervals and a gentle tone for 1-1/2 seconds so there is no need to do anything once the program is installed but you can control the tone, volume, vibrate on/off, tone frequency and length and whether to notify you on phone calls, texts messages, or both.

---